Pickle gherkins – Gourmet ala Maison
Gherkins. Who doesn`t like them? You can use them in a salat, as a salat, in main dishres, for a quick meal… We offer you one fresh bite of ours.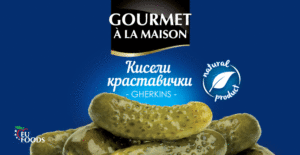 Sterilized product.
Content:  gherkins, dill, salt, mustard, pepper, sugar, allspice, water, vinegar, onion.
Without preservatives and colorings!
Choose the size of the glass jar  – 580, 720 and 1680 grams.
We can produce with ours` or your specifications. With our brand or your private label.