Bean line- Gourmet aLa Maison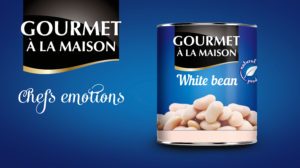 EU Foods presents You our new series of canned bean Gourmet ala Maison – Chefs emotions.
You will find our big variety, all with perfect taste and texture. Made with love for your table. Perfect for every dish- from salats and starters to main.
Bean line includes:
White beans in tomato sauce
Red beans in tomato sauce
White beans in brine
Red beans in brine
Cranberry beans
Spanish cranberry beans
4 Beans mix
You can choose the opening of the can between Easy open or Regular open.
Also between the Different sizes– 425 ml, 500 gr, 1 kg and 3kg.